License Plates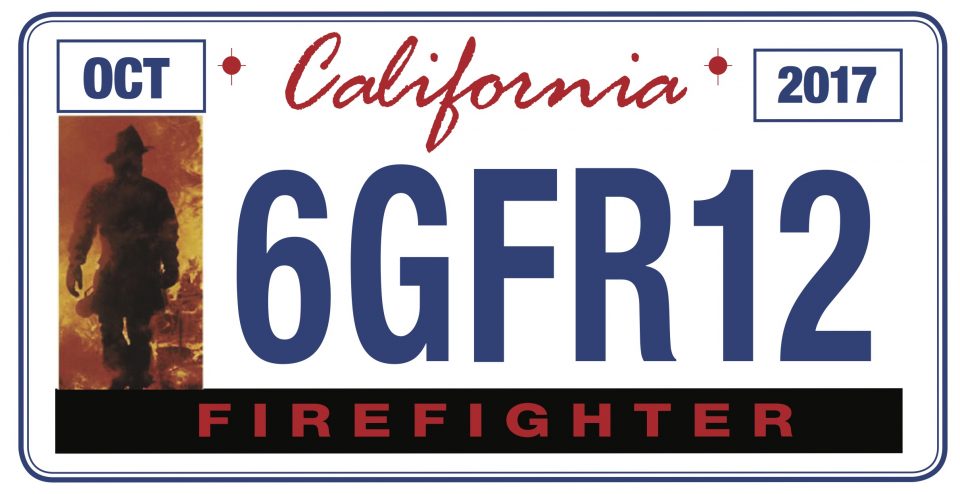 For more than 20 years, the California Firefighter license plate has allowed first responders to show their pride and support our fallen.
The specialty plate was created by the California Professional Firefighters and features the iconic Backdraft movie poster image, the rights of which were donated for exclusive use on the California Firefighter specialty plates. Nearly 48,000 California Firefighter license plates are on the roads today.
The License Plate program is administered by the California Fire Foundation with $35 of each annual renewal of these specialized license plates going toward the maintenance and upkeep of the California Firefighters Memorial, located in Sacramento's historical Capitol Park.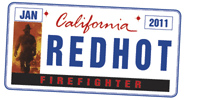 FEES AND ELIGIBILITY INFORMATION
The plates cost $50 for sequential and $103 for personalized. Renewal costs are $35 for a sequential plate and $83 for a personalized plate. Thirty-five dollars from each renewal goes to the California Fire Foundation and is tax deductible.
As of January 1, 2018, surviving family members of deceased firefighters are eligible to purchase California Firefighter license plates. Eligible surviving family members are limited to current spouse, domestic partner, adopted child, stepchild, or recognized natural child. Former spouses are not eligible.
Additionally, the California Fire Foundation pay the first-year fees associated with the purchase of a sequential California Firefighter license plate ($50) for spouses of active or retired firefighters who died in the line of duty. Call (800) 890-3213 for more information.
Active or retired firefighters APPLY HERE for your California Firefighter License Plate
Family members of fallen firefighters APPLY HERE for your California Firefighter License Plate
For more information regarding ordering your California Firefighter license plate, call (800) 890-3213 or e-mail cafirefoundation@cpf.org and for personalized license plates, you may now search on-line at www.dmv.ca.gov.